After 2 successful years in Manhattan, located in the border of Tribeca and Chinatown), Majestic Tattoo NYC was forced to relocate to Brooklyn, a common story for many small businesses in NYC, especially those involved in art and culture. However, we are as happy as ever at our new Brooklyn home – 1086 Broadway, on the intersection of Bushwick and Bedstuy. We are neighbors with awesome bars, restaurants, venues, nightclubs, and art galleries, including (but not limited to) Bizarre, Lone Wolf, Bossa Nova Civic Club, The Living Gallery, Champs Vegan Bakery, Skytown, Gallery Bar, Happy Fun Hideaway, and one of our favorite bars which is sadly now defunct, Goodbye Blue Monday.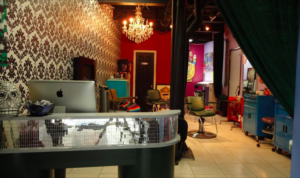 The new Brooklyn Majestic Tattoo NYC is a larger, more realized space that will function both as an all-custom tattoo studio as well as an art gallery to present works by owner Adal as well as other local and visiting artists. The mission of Majestic is the same as it's always been: to provide high-quality, all custom, visionary, colorful tattoo artwork to the public – a departure from the traditional, commonplace tattoos seen throughout the rest of NYC and the U.S.A. in general. With over 20 years of experience as a painter and tattoo artist, Adal custom draws every tattoo and always takes into consideration the relationship between the placement of the tattoo and the client's unique anatomy.
We opened the doors to our new Brooklyn store in October 2014, but our official opening will be in the spring of 2015. Appointments can be set by calling us at (718) 573-3323 or by sending us an email.