Visiting the Studio
Visit Majestic Tattoo NYC
As of October 1, 2014, Majestic Tattoo NYC is opening up at a new location at 1086 Broadway in Brooklyn, the geographical center of New York City!
To get to Majestic from Manhattan, you can take the Brooklyn-bound J M or Z trains to Myrtle and Broadway and walk 4 blocks.
From central or Western Brooklyn, you can take the B38 bus to Broadway and Dekalb and we are around the corner.
From Queens, take the Brooklyn-bound G train from Court Square and transfer to the J or M at Lorimer.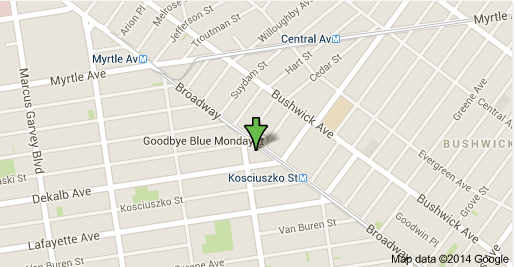 Hours of Operation
Majestic is open Wednesdays through Saturdays from 12:00 PM to 8:00 PM. Due to our increasingly booked schedule, if you are interesting in being tattooed by Adal, we urge you to call us at (718) 573-3323 or email us in advance. Note: We encourage you to reach out to us if you are truly interested in starting a tattoo project with Adal, and he will be able to consult with you within a couple weeks. However, please be advised that our waiting list to be tattooed is currently 2-3 months in advance for large-scale projects, and possibly less time for small to medium pieces.