About Majestic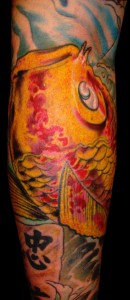 Majestic Tattoo NYC is a tattoo studio run by veteran New York tattoo artist Adal Ray in Brooklyn, New York. Majestic originated just blocks from the world's first ever tattoo shop in Chatham Square, in Manhattan, but relocated to Brooklyn in 2014. Majestic is located at 1086 Broadway in Brooklyn in the intersections of Bushwick and Bed-Stuy.
Majestic maintains a focus on providing all custom, high-quality, modern tattoo art at reasonable rates. Majestic prides itself on being one of the best tattoo shops in New York in which to receive all custom tattoo work. Adal custom draws every tattoo for all of his clients.
Furthermore, Majestic Tattoo NYC also functions as a small art gallery, featuring works by both local as well as international artists. For information about our current selection of artwork on display, please visit our blog.