About Majestic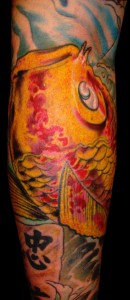 Majestic Tattoo NYC is an eclectic tattoo and art studio owned and operated by veteran New York tattoo artist Adal Ray.
The focus of Majestic is to explore experimental, unique and transformative tattoo art projects, providing collectors access to original and wholistic body art.
The brick and mortar stores were recognised as one of the best studios in New York City for custom and visionary tattoo work. The brick and mortar locations also functioned as modest art galleries, featuring works by local and international artists. Majestic originated in Tribeca in 2011 at 67 Franklin St, blocks from the world's first ever tattoo shop in Chatham Square and Manhattan City Hall. In 2014 the studio relocated to 1086 Broadway, Brooklyn, the geographical centre of NYC.  In 2021, during the Global Pandemic, Adal Ray closed the physical. "Majestic Vision" was realised and could now evolve into a new phase of it's mission. Majestic now operates as a virtual studio and gallery. Adal executes art, tattoo and mural projects  at various private spaces within Manhattan, Brooklyn and Queens.