June 14, 2013
How to Tell if a Tattoo Shop is Clean? A Helpful Guide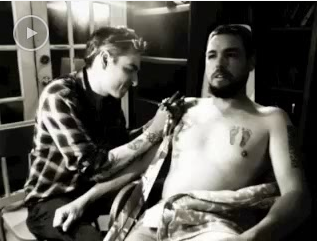 What makes a clean and safe tattoo studio?
Here at Majestic Tattoo – we are 100% certified by the New York City Department of Health, and maintain a high standard of cleanliness and safety at the studio. But what exactly makes a clean tattoo shop? Whether you are getting tattooed at Majestic Tattoo NYC, or elsewhere – here is a helpful guide to teach you what to look for in a shop for standards of cleanliness.
Autoclaves and Disposables
The tattoo studio of your choice should make sure that all tools are clean and sanitary. But how do we maintain this standard? Many shops these days use disposable medical grade versions of everything that gets used from client to client. Each medical grade needle and tube used from is individually packaged and sterilized. Ink caps (the little cups tattoo artists put ink in) should all be disposable as well, and not re-used.
Autoclaves are also commonly used in tattoo shops to sterilize non disposable equipment. They do so by exposing the equipment to temperature high enough to kill any spores and bacteria. Some tattoo studios may use makeshift autoclaves such as pressure cookers and toaster ovens. This is not acceptable because only an autoclave can reach the proper temperature and maintain the right conditions for sterilization. Any other makeshift equipment is a big risk.
Autoclaves should also be routinely tested to make sure they are clean and running properly.
When your artist or the artist's assistant sets up the station – watch to see that they use fresh disposable or sterilized equipment.
Ask For a Tour of the Workspace
Your tattoo artist should be more than happy to show you their workspace and answer any questions you may have about the equipment (unless they are busy working with someone at the moment, of course). When visiting for your consultation, make sure to ask for a tour of the workspace and ask the questions you need to ask to feel safe and comfortable.
Shaving and Disinfecting
Before getting tattooed, your artist should shave and disinfect the area of your skin that is going to be worked on. This is necessary especially for making sure that there is no risk of infection when your tattoo is healing.
Disposable Gloves
Your tattoo artist and anyone else helping to clean and set up the station should be wearing fresh disposable gloves, and making sure not to contaminate them by touching dirty things while they are working. For example – if your artist runs to the restroom, or takes out the garbage or something during the time they are working on you, they should remove their gloves and put on fresh ones upon their return.
When applying vaseline to your skin before you get tattooed, the artist should be wearing gloves and use a disposable instrument to take the vaseline out of the container and apply it to your body. This should not be done by hand.
Clean and Uncluttered
The tattoo artists work station should be kept clean and free of clutter. Unnecessary objects on their table can only lead to contamination. The only things on the working area should be items relevant to tattooing you. These should be sanitized and covered and taped in baggies.
Safe Needle Disposal
All tattoo shops should have clearly marked sharps containers for safe disposal of old needles.
Clean Up
People cleaning the station should spray and wipe down everything in the work area with a medical grade sanitizing spray. Any barriers and baggies taped on to spray bottles/etc. should be removed and thrown away. All disposable items should be thrown out, and used needles should be placed in the sharps container. These are some of the things you should see happening when the area is being cleaned in between clients.
This is by no means a comprehensive article – but it is a helpful basic guideline for you to use to make sure the shop you go to is abiding by the best standards of cleanliness.
One of the major important signs of a happy and clean tattoo shop, is that the artist is willing to take the time to make sure you feel safe and assured about their cleanliness standards.
Before you notice any of the things mentioned in this article, if you find the artist is not willing to answer your questions or show you the workspace, it may be time to walk away.
Hope this helped!