December 21, 2012
Know Your Neighborhood: Things to Do and See Around Majestic NYC
Visiting New York City for the first time and wondering where you can find things to do that aren't your typical tourist traps? Or if you're a local and just looking for new destinations to explore off the beaten path? The crossroads of NYC's Tribeca, Soho and Chinatown neighborhoods often aren't considered hotspots of activity, but in addition to being home of Majestic Tattoo NYC, there are tons of hidden gems in the area. Here are a few of our favorite NYC attractions within a short walking distance from the studio.
1) Lupe's East LA Kitchen (110 6th Avenue, near Broome Street)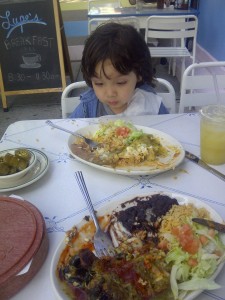 This is hands down our favorite spot for lunch in the area. Ever. Lupe's offers inexpensive and delicious Mexican cuisine to the Tribeca and SoHo neighborhoods, dine-in or take-out. We recommend trying the enchilada verdes for a delectable reprieve after your tattoo.
2) Philip Williams Posters (122 Chambers Street, b/w Church and Broadway)
Check out the amazing poster selection at Philip Williams[/caption]
This store has a mindblowingly expansive collection of wall art. Great for both the casual browser and the serious shopper, Philip Williams has poster designs ranging from French art nouveau advertisements to quirky vintage circus posters and everything in between. The thousands of designs on display definitely make this unique NYC shop worth your while.
3) Peter Tunney Art (70 & 73 Franklin Street)
We are excited and proud to have this incredible artist as our neighbor. Peter Tunney is a talented artist who aspires to bring an artistic touch to everything and everyone he encounters. His mixed media pieces combine popular culture consciousness and an eye for unique details. The working studio generally takes appointments for avid art collectors, though if you're lucky, the curious fan may get the chance to catch a glimpse of the artistic process as well.
4) La Monte Young's Dream House (275 Church Street, b/w Franklin and White Sts.)
This installation, described as a sound and light environment, is open Thursdays, Fridays and Saturdays from 2PM to midnight, and located in a large, nearly-empty loft. The sound installation combines high-frequency and sub-audible sounds that shift based on how you navigate the space, and black lights were added to enhance the experience. Whether you have half an hour or a whole evening of free time to devote to the Dream House, it's worth checking out and staying a while.
5) The Impossible Project Space (425 Broadway, 5th floor, near Canal Street)
This Soho loft space is a combination exhibition/retail space for all things instant analog photography, so it's a necessary destination for fans of Polaroid photography. The space doubles as the American headquarters for the Impossible Project, the European effort that singlehandedly saved the last Polaroid instant film production plant. Visit the store to see the latest in instant photography work or to purchase instant cameras & accessories.
6) Cortlandt Alley (between Walker and White Streets)
This slightly grungy back alley dates back to the early 19th century and is one of few still remaining on Manhattan. Running the length of three city blocks, Cortlandt Alley is also the home of a museum (simply called "Museum") located within the space of an old warehouse freight elevator, which exhibits an array of found objects. The alley is also a hub for activity, including photo shoots, and serves as an architectural canvas for a wide range of street art.